Scalable election mapping done right
Last weekend there were elections in Germany, and that means a lot of mapping! Maps are a fundamental tool to explain voting results, differences between regions, possible coalitions, and more. And during election night they become one of the most fundamental visualization techniques for showing the status of results.
The great team at Süddeutsche Zeitung, the biggest newspaper in Germany, created a very complete mapping application for the elections using CartoDB. The map allows you to see the election results and statistical data while comparing them with previous years. Their use of legends and nice color patterns come together in a great piece of work.
They used cartodb.js in their development to dynamically change the data being visualized with different CartoCSS and SQL. Altogether there are more than 40 different maps displaying a variety of data with many options to activate and deactivate dynamically.
The data behind the map was refreshed at least every 10 minutes, with updates every minute during the peaks. They designed the maps to leverage the SQL API in order to update the results as they were announced. Because CartoDB is dynamic, those results were immediately available on the published map.
So, if you consider 40 different maps with data updates every 10 minutes for 2 days thats make 11,520 different maps published! Well, this would be impossible to just pre-create manually, and of course they didn't. CartoDB is a dynamic mapping engine: they only had to create those 40 maps and then just continuously update them. No need to recreate them each time new results came in. The fact that maps are dynamic is the core of CartoDB, and crucial for these type of projects.
Another facet of these maps is their scalability. Election night, and the morning after, can be quite crazy in terms of traffic. We saw peaks of more than 1,500 map views per second. That's quite a lot of map views. If you don't correctly handle the traffic your service can easily go down. By using CartoDB on the cloud you ensure your maps will scale, no matter if it is 10 visitors or 10 million visitors an hour. And because in CartoDB you only pay for what you use, you only need to worry about the map views generated by your application. No provisioning of lots of servers, just let your application go and we handle as many users as you can generate.
But lets go back to the map from Süddeutsche Zeitung. You can find some very interesting maps, like how clear the divide between East and West Germany still is, 24 years later.
Or look at this other map on where the so called "Jamaica" coalition is visualized. Very nice use of CartoCSS patterns!
See also the nice infowindows they designed: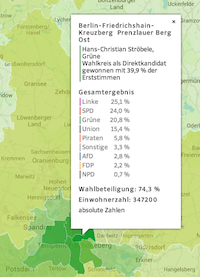 Finally we did not want to forget that some weeks ago there were elections in New York, and of course we are very connected to the city, so we don't want to forget about the elections map done there using CartoDB. Our friends from the CUNY Center for Urban Research did a great map with the results. Well done!
The type of elections maps that we see nowadays are just amazing. We shouldn't call them maps probably anymore, we should call them election data products. And providing the technology to see these maps getting created is just amazing.
If there is any map you would like to highlight on our blog, please dont hesitate to contact us