When does geocoding cost?
In order to get insights from a map, the first step of most CARTO users is geocoding their data. But this process has its limitations. Why?
You have faced some issue regarding geocoding.
You want to understand how geocoding at CARTO works.
You want to know how geocoding credits are spent in CARTO.
What is geocoding?
Geocoding allows CARTO users to match your data with geometries on a map. This geocoding service can be used programatically to geocode datasets via the CARTO SQL API. It is fed from Open Data and other third party providers like TomTom and HERE. It serves geometries for countries, provinces, states, cities, postal codes, IP addresses and street addresses.
Geocoders at CARTO
CARTO relies on two different types of geocoders. On the one hand, geocoding by latitude and longitude, country, administrative regions, IP addresses, or postal/zip codes uses CARTO Internal Geocoder, an open source solution based on open data.
Geocoding by city names and street addresses, on the other, uses external providers such as HERE or TomTom depending on your account plan.
The following table shows credit consumption, provider and row limit for each Builder gecodoing analysis.
| Geocoder | Geometry | Credit Consumption | Provider | Row Limit |
| --- | --- | --- | --- | --- |
| Latitude & longitude | Point | No | Internal | - |
| City names | Point | Yes | Tomtom, HERE | - |
| Country names | Polygon | No | Internal | 500 |
| Administrative Regions | Polygon | No | Internal | 1000 |
| IP addresses | Point | No | Internal | - |
| Street adresses | Point | Yes | Tomtom, HERE | - |
| Postal Codes | Point | No | Internal | 1M |
Understanding geocoding credits
When applying some Location Data Services functions (routing, geocoding, etc.) or Builder analysis (geocoding by city names, travel buffer…). One credit per function call will be consumed. The results are not cached. If the query is applied to a N rows dataset, then N credits are consumed. Avoid running dynamic queries to these functions in your maps. This can result in credit consumption per map view.
In Builder, a popup will advert users about the number of geocoding credits are going to be consumed.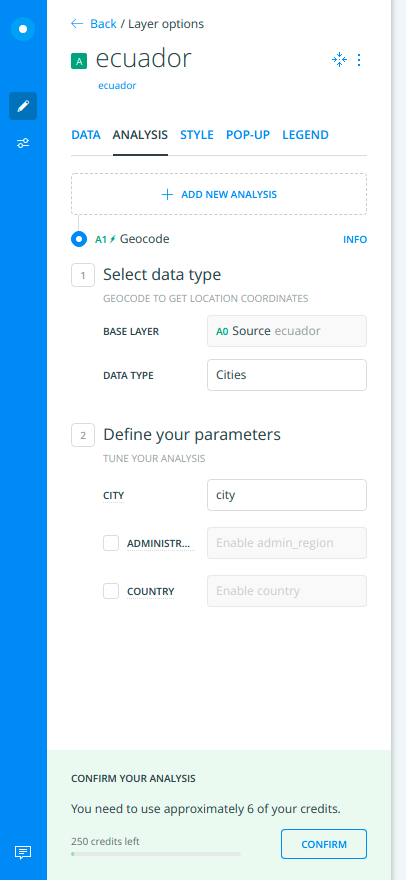 Import and geocoding
CARTO automatically includes guessing functionality during the import process. The importer checks if the file contains longitude and latitude column names like (longitude, lon, lng, longitudedecimal, longitud, long, decimallongitude, decimallong, point_longitude, latitude, lat, latitudedecimal, latitud, lati, decimallatitude, decimallat and point_latitude). If any of these names are detected, it will use the values of those columns to geocode your data. If it doesn't, then it will search for IP address, city and country names in this same order. Finally, if it does not find any of those references, it will leave the the_geom column with NULL values.
Routing and Isochrones
Routing and isochrones functions behave very similarly. That is consuming one credit per call. Isochrones can be generated using Builder Create Travel Buffers analysis and CARTO's Location Data Service functions. Routes can only be generated by the latter.
What's next

Read this Developers support article to learn how to obtain your geocoding quota.

Read this article to learn how to bypass the row limits on certain geocoding analysis.

Read this article to learn how to send batches of geocoding queries.