CARTO Builder ®
Data mapping software made simple. Visualize, analyze & share in a matter of minutes.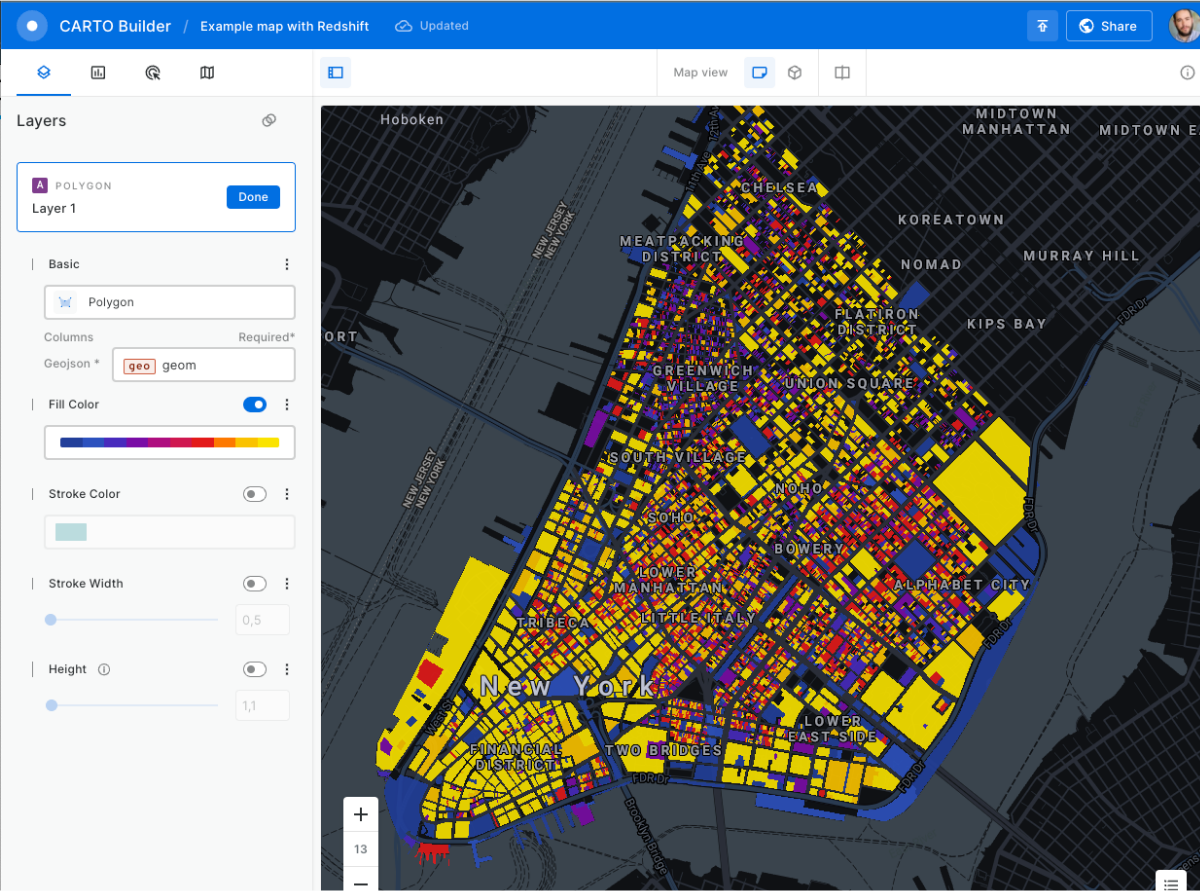 1
DATA INGESTION & INTEGRATIONS
Easily connect your spatial data
Whether you're starting from a spreadsheet, connecting to your data warehouse or using remote files (such as CSVs, GeoJSONs or shapefiles) Builder allows you to add your data in seconds with a simple drag-and-drop interface. With integrations for leading cloud data platforms and analytics tools, including
Google BigQuery
,
Snowflake
, Amazon Redshift and
Databricks
, you can connect to your existing analytics stack and enrich with external data from our
Data Observatory
.
Carry out spatial analytics at speed
Our Analytical Toolbox delivers more than
60 advanced SQL functions
- making it simple to carry out location-based analytics with Spatial SQL. Whether you're looking to geocode data, create polygons from points, detect clusters and outliers, create travel or distance buffers or intersect & aggregate - Builder simplifies the process so that you can provide the insights your organization needs.
Rapid app prototyping
Making use of the powerful
deck.gl
visualization library, Builder allows you to design your maps and reference them in your code. CARTO handles the visualization of large datasets, updates the maps and everything in between - facilitating the creation of apps with a complete set of
development libraries and APIs
.
What our clients say
"It is easy to use yet very powerful. Within a couple of hours, you can get a beautifully looking web map live. No need for coding or mapping knowledge as long as you understand your data. The advanced styling and analysis tools can get you even further."

Data Scientist,
SaaS Company, Canada

"I love its applicability. I have created numerous maps with CARTO Builder in the last year. For point features, you can use any icons imaginable and display all kinds of information in the pop-ups - without the hassle. I also created many heatmaps or progress maps that showed our team's editing work in specific cities or regions."

Data Analyst,
Regional Government, United States

"Ease of access and speed. For a digital mapping platform, CARTO Builder is both intuitive and efficient. I am able to upload and operate datasets quickly (along with exporting full projects); and, customize the features with relative comfort - including adding and removing without too much complication. It is comparatively the best platform I've used in the years I've been mapping, and they have been among the most helpful hands on assistance when it comes to snafus while working."

GIS Developer,
Telecommunications, United States
Trusted by market leaders
Analysts across a wide range of industries use Builder to provide geospatial insights that help grow their businesses and reduce costs.