Spatial analytics for the modern cloud stack
Advance your spatial analysis with our cloud native platform, turning location data into real business outcomes.
Speed up your spatial analysis
Data Scientists, Developers and Analysts solve spatial problems using our
data
and analysis to understand where and why things happen, optimize business processes and predict future outcomes. Our platform helps you to do this in 4 simple steps:
1
CLOUD CONNECTIVITY & INTEGRATIONS
Connect your spatial data seamlessly
Integrate with the leading cloud data platforms and analytics tools, including
Google BigQuery
,
Snowflake
,
Amazon Redshift
and
Databricks
. Eliminate ETL complexity and any limits on scalability. Whether you're looking for SaaS, private or public cloud or self-hosted, our platform is ready to support your location-based decisions on your terms.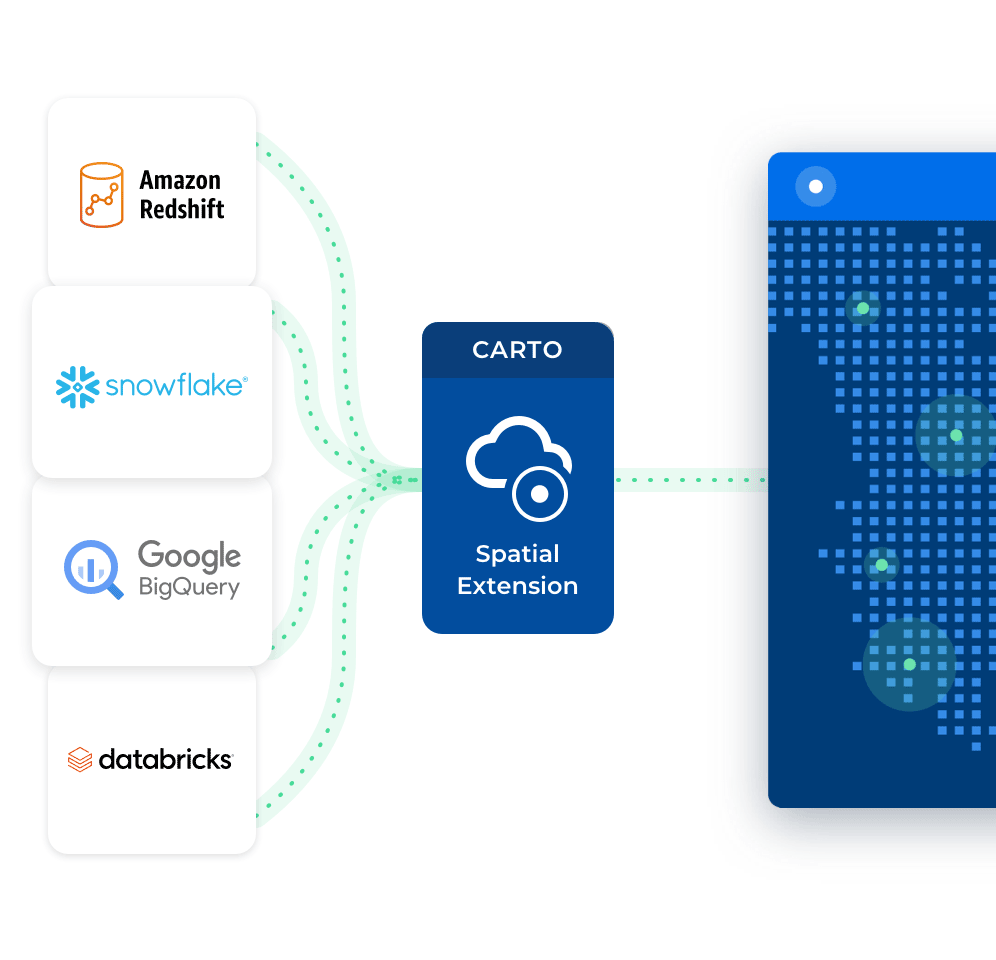 Access more than 12,000 geospatial datasets
Rapidly carry out spatial analysis
Whether you're a Data Analyst starting out in location analytics or a Data Scientist creating machine-learning driven spatial models, CARTO's services (including
geocoding
,
routing
,
isolines
and
basemaps
) speed up the process. Carry out analysis from your Jupyter notebooks, or run advanced analytics natively in the leading cloud platforms.
4
SOLUTIONS & VISUALIZATION
Build intuitive location intelligence apps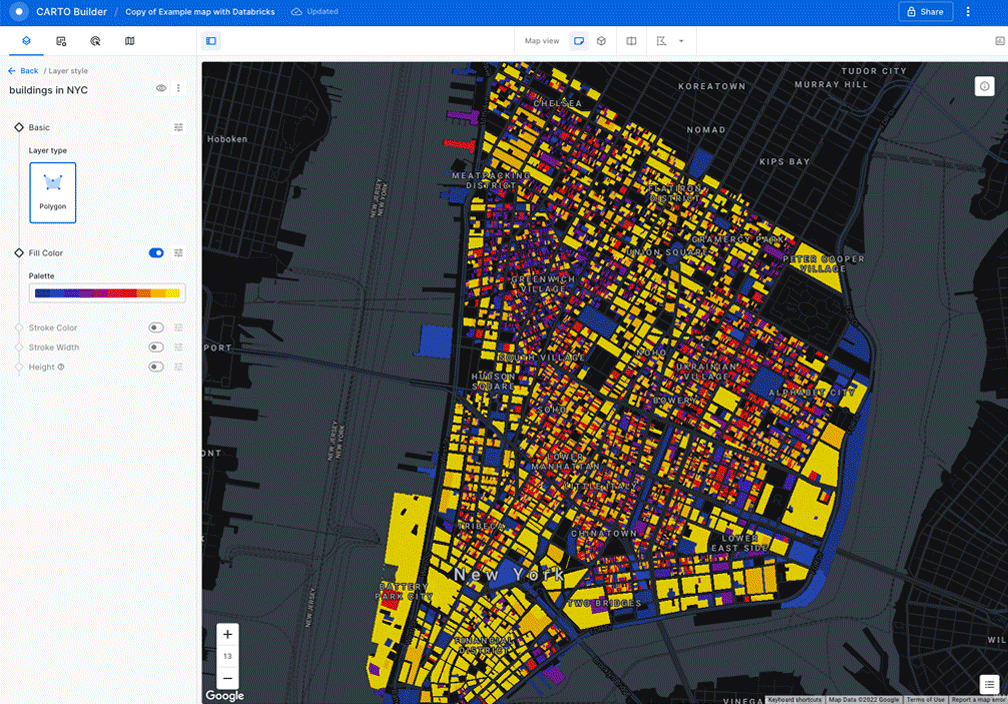 Need some help to kick-start your geospatial project?
Our Professional Services & Support teams can help you accelerate projects, drawing on their expertise in app development, design, spatial data science and GIS.
Professional Services

Whatever the nature of your use case, our Professional Services team can help you fast-track strategic geospatial projects.

Support

We offer a full range of support options, helping you make the most of CARTO's spatial data and analysis.
What our customer say.
"One of the big challenges we've had is finding a way to teach more analysts how to make maps and do geospatial analytics. CARTO's easy to use tools really help our analysts to quickly visualize data and use the insights to inform response."

Françoise Pickart,
Director, Risk + Analytics, NYC Health Department

"CARTO allows us to visualize aggregated data from over 200 million transactions per month. SME's don't have Data Science or BI departments, so turning this Big Data into digestible insights that can allow them to grow their business and remain competitive allows us to differentiate ourselves from our competition ."

Josep Amorós,
Commerce360 Product Owner

"Considering spatial data in our aggressive expansion plans has been a key part of our success. By designing our territories in CARTO, we've been able to improve customer satisfaction significantly - working closely with our grocery store partners."

Neera Chatterjee,
Senior Product Manager at Instacart

"By partnering with a world-class Location Intelligence platform provider we've been able to unlock unique spatial insights from our mobile data, opening new lines of business and turning billions of events in to unique insights for Retailers, Real Estate companies and Public Sector organizations."

David Fierro,
Big Data Tech Lead at Vodafone Business

"CARTO is an expert in geolocation tech, and when you think of a project requiring the use of data and maps… you just think of them."

Iván Fanego,
Branded Content & Social Media Manager
A Spatial Analytics platform on your own private infrastructure
Self-hosted solutions for enterprise organizations and government bodies facing strict data security, compliance, and regulation requirements.
Is there any difference in functionality between the Cloud platform and Self-Hosted?

No, with CARTO Self-Hosted you can enjoy the same powerful and versatile experience from our managed cloud platform, including building maps, visualizing and analyzing spatial data at scale, and developing high performing applications—but deployed in your own controlled environment.

What's the value of the commercial Self-Hosted offering if CARTO's software is Open Source?

While our open source deployment may be helpful for testing purposes, we do not recommend it for projects where performance, high concurrency, or security are relevant. With our commercial Self-Hosted offering, we provide direct technical support, architecture advisory, maintenance and managed software upgrades. It also comes with a powerful installer with all required components packaged and a handy set of tools for making configuration tasks easier

How do I get CARTO Self-Hosted?

Contact Sales and one of our Account Executives will contact you to understand how you can make the most out of CARTO Self-Hosted for your organization. We will understand your use case to give you advice about the architecture that best suits your needs and we will gather all required technical information about your infrastructure to properly prepare for the installation.

What exactly is installed on my server or in my private cloud with CARTO Self-Hosted?

The entire cloud native CARTO tech stack: including APIs, Builder, Analytics Toolbox, Location Data Services, cache layer…and more.

What kind of architecture deployments are supported by CARTO Self-Hosted?

Depending on your performance requirements, CARTO Self-Hosted can be scaled from one single instance, up to a high-availability setup, in order to provide the best fit to cover your application needs—allowing you to fine-tune resource allocation to each component of the stack to get optimal performance while complying with strict security policies.

What is included in my support and services package?

Depending on the support package, we include various offerings as part of our subscription, such as email access to our Support Team, direct help with deployments, installs and screen sharing sessions for troubleshooting.
Ready to see how this could work for your organization?