Looking for an ESRI alternative?
CARTO is the leading Location Intelligence & GIS platform for cloud natives. See why modern analytics professionals are making the switch.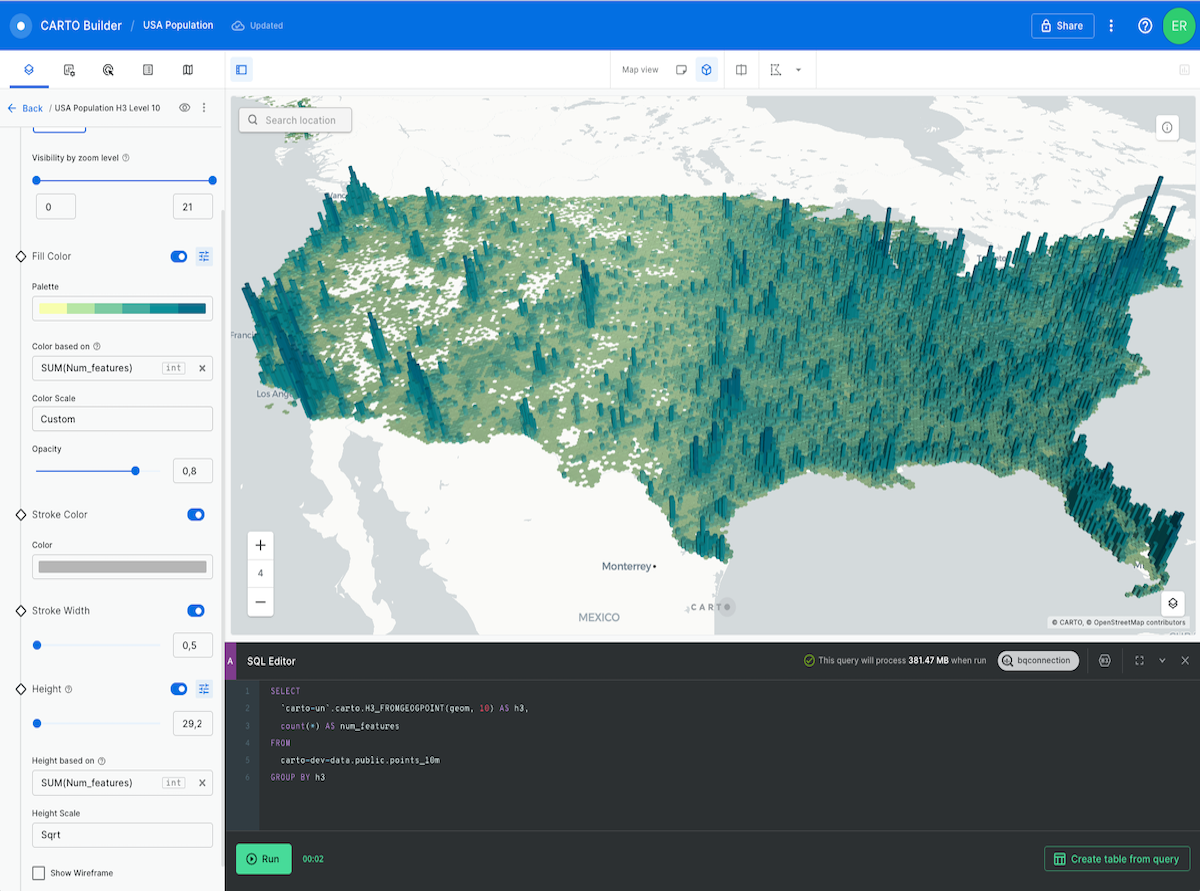 Why is CARTO the best Location Intelligence platform?
The leading cloud-native spatial analytics and GIS platform for companies using modern cloud data stacks.
With CARTO, all data is stored within your cloud data warehouse, wasting no time on data transfer or complex ETL. CARTO is a unified platform (available as SaaS, self-hosted and hybrid deployments) - providing an end to end solution for organizations looking to visualize & analyze geospatial data, at scale.
CARTO vs. ESRI at a glance
CARTO
The cloud-native Location Intelligence platform for teams of all sizes
Esri
Proprietary enterprise GIS with a broad range of products and services
CARTO
Direct cloud connections with no limitations on multiple data warehouses and databases. All queries are run natively on the data warehouse and no data is stored in CARTO.
Esri
Connectors for BigQuery, Redshift and Snowflake for ArcGIS Pro. Data is queried then transferred and stored in ArcGIS Pro.
CARTO
CARTO leverages the same performance as in your data warehouse for queries and analysis, served via a simple API layer (no ODBC or JDBC connection). Our Analytics Toolbox runs and scales in the data warehouse. Flexible visualization options from simple to complex, including aggregations for large features.
Esri
Esri supports connectivity with BigQuery, Redshift and Snowflake, using legacy technologies like ODBC. Cloud support is limited, handling datasets with a few thousand features.
CARTO
CARTO Data Observatory provides over 11,000 public and premium datasets from a variety of vetted data providers.
Esri
Demographic data for 130+ countries through Esri Demographics, and other datasets available for purchase such as Traffic Counts.
CARTO
Analysis is run natively using Spatial SQL directly in the cloud data warehouse environment.
Esri
Proprietary analysis runs through toolbox services in ArcGIS Pro.
CARTO
Fully cloud-native with serverless connections and deployment.
Esri
Not cloud native. Esri Enterprise includes duplication services and containerized deployments.
CARTO
CARTO sets out clear pricing with no hidden fees or variable costs for credits. Our flexible license model allows for unlimited users and map viewers, without requiring named user accounts.
Esri
Esri has a complex consumption based pricing model that is difficult to predict and budget for. In addition, much of the advanced capabilities of the Esri system come at a significant additional cost to end users.
CARTO
SaaS cloud hosted or a self-hosted option deployed with Docker Compose or Kubernetes.
Esri
Esri Enterprise requires management by internal IT resources and some cloud managed services.
CARTO
CARTO provides a simplified, intuitive UX that is easy to learn and adopt for the non-GIS user. Users can derive location insights faster and easier.
Esri
Esri creates products and solutions aimed at serving their core audience, the traditional GIS user. Specialized training is required.
CARTO
Flexible enterprise pricing plans, with all inclusive pricing.
Esri
Limited migration capabilities. Complex product portfolio and a credit-based pricing system.
CARTO
Data is not stored in CARTO. A single API layer used across all platform elements.
Esri
Various APIs depending on the product.
CARTO
CARTO uses and contributes to open source libraries such as Deck GL, React, Geoparquet…
Esri
Closed-source product, but can integrate with some open source tools.
Easily connect your spatial data
CARTO integrates with the leading cloud data platforms and analytics tools, including Google BigQuery, Snowflake, Amazon Redshift and Databricks.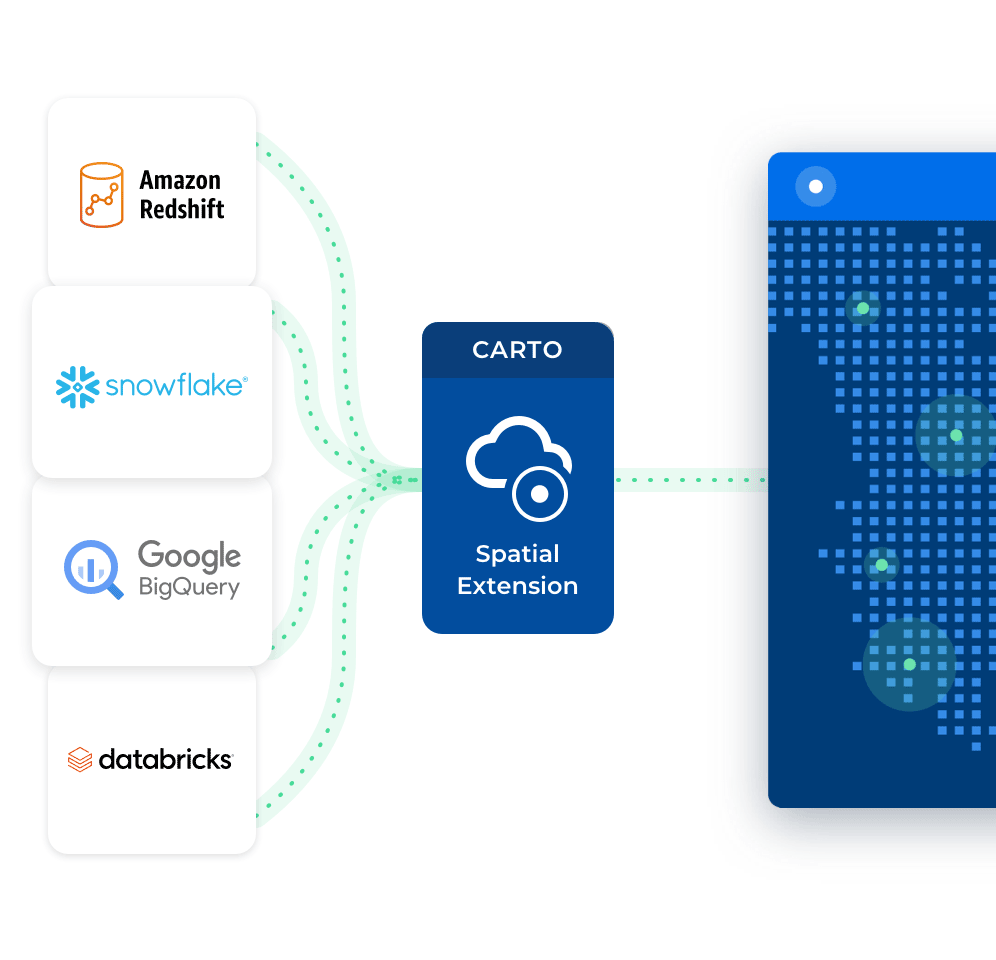 Access more than 11,000 geospatial datasets
Our Data Observatory makes it simple for enterprise organizations to access thousands of "always-on" public & premium datasets, enhancing their spatial analysis with data such as demographics, POIs, human mobility, credit card transactions and much more.
Rapidly carry out spatial analysis
Whether you're a Data Analyst starting out in location analytics or a Data Scientist creating machine-learning driven spatial models, CARTO's services (including geocoding, routing, isolines and basemaps) speed up the process. Carry out analysis from your Jupyter notebooks, or run advanced analytics natively in the leading cloud platforms with our Analytics Toolbox.
4
SOLUTIONS & VISUALIZATION
Build intuitive Location Intelligence apps
Visualization shouldn't just be pretty maps, it should answer a business question. With CARTO, you can rapidly build Location Intelligence apps or use one of our app templates, providing a solution that your business stakeholders will actually want to use in their day to day, whether it's for Market Analysis, Site Selection, Out of Home Advertising or Supply Chain Optimization.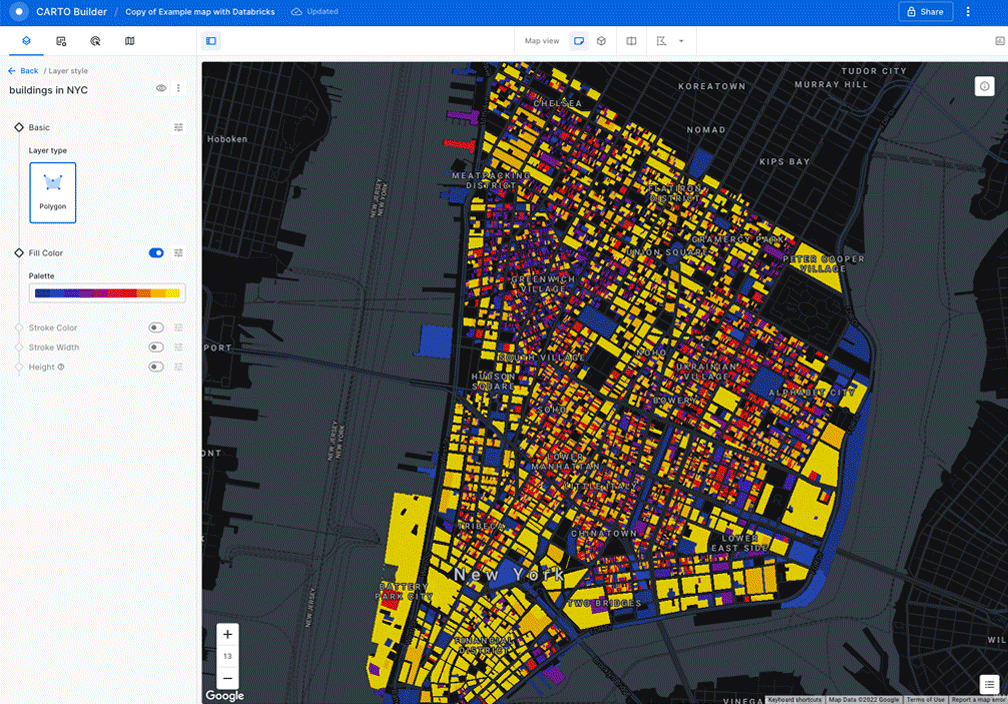 What CARTO customers say
"Using CARTO has enabled us to analyze service qualification at a much larger scale due to its comprehensive support for a wide range of functions and libraries including spatial indexes. This is a gamechanger, modernizing our GIS stack."

Kendra Lord,
Director of Geospatial Engineering & Analytics at T-Mobile

"CARTO makes map making easy. I can quickly pull the data in, get it on a map, do some light SQL & then share. Collaboration is easy & within a couple of hours we can have a really great visual product to share with decision-makers."

Jason McVay,
Associate Data Scientist at Indigo Ag

"Geospatial Data Science allows us to operate at far faster speeds. When we can see things in context, we can instantly see fundamental problems between zones. Creating tools through CARTO gives us the ability to put data into the hands of stakeholders & help them answer their questions."

Daniel L J Thomas,
Geospatial Data Scientist at Deliveroo
You're in good company
Market leaders rely on CARTO to solve spatial problems.

Move from seeing where to understanding why.